Cooper King Distillery secures innovation funding
The Cooper King Distillery, based in Sutton-on-the-Forest near York, is a newly established distillery started from scratch by chartered architect Chris Jaume and Dr Abbie Neilson, a biomedical scientist.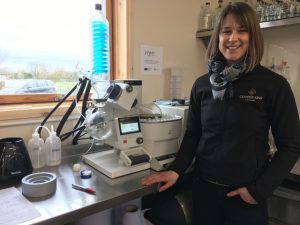 Over a four-year period, the business has grown from an initial spark of an idea through to the launch of the businesses first new product – Cooper King Dry Gin – in May 2018.
With funding support from the PAPI project operated by the University of York, there now exists the promise of much more business development, growth and new product innovation.
Chris and Abbie said: "The PAPI grant provided much needed support; it enabled the purchase of key equipment which allowed us to produce our first product, a vacuum-distilled dry gin."
The copper pot still purchased from Tasmania is central to the premium offer of the business, replicating the equipment adds uniqueness to Cooper King products as the shape and heating impacts the flavour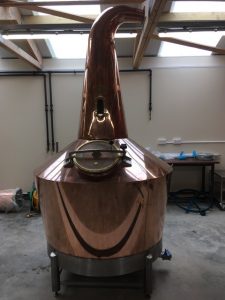 profile of the finished product.  Alongside this, using local Maris Otter brewing barley and Yorkshire-made oak casks all combine to add a depth of flavour and colour creating a premium product. Whisky batch-distilled in the only copper pot still of its kind in the Europe is a key element in developing an award winning unique flavour profile similar to that of Tasmanian spirits and a unique selling point for the distillery.
This new equipment, funded by PAPI, will enable continued product and flavour innovation and the potential for future collaboration with other food and drink producers.
Chris and Abbie added: "We have been able to enter the market place and develop new products at a much faster rate than would otherwise have been the case with the first aged whisky product likely to follow in 2023."
Regarding the PAPI application process, Chris and Abbie explain: "The responsive business support and guidance provided by the PAPI team ensured that the grant process was smooth and efficient. This complimented the development timescales set out by Cooper King to ensure a swift introduction of a new product to market."
The experience with PAPI has encouraged the businesses co-founders to continue onward with their innovative spirit that first germinated in Tasmania and is now rooted in Yorkshire!
Could a grant from PAPI help your business?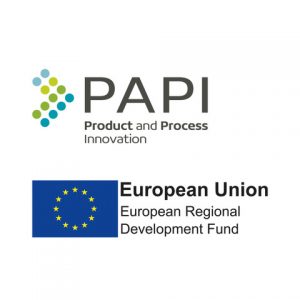 The PAPI project is part-funded by the European Regional Development Fund as part of the European Structural and Investment Funds Growth Programme 2014-2020.
The PAPI project provides grants for equipment that enables innovation through to new product development to businesses based in York, North Yorkshire, East Riding and Leeds City Region.
A grant of 40% is available on a project spend of between £20k-£50k which equates to a grant of between £8k-£20k.
To find out if PAPI can help your business, call  01904 32 8076 or email papi-project@york.ac.uk