People: Smoosmiths boosts real estate team; Mills & Reeve appoints two new associates; and more
National law firm Shoosmiths has boosted its Yorkshire real estate team with the appointment of Matthew Lonergan as a partner and Michael Gaughan as a senior associate.
Both Lonergan and Gaughan join from DLA Piper in Leeds.
The firm's real estate team now stands at more than 30, including nine partners.
Lonergan, who spent more than 23 years with DLA Piper, is a real estate litigation specialist and acts on behalf of numerous high-profile national and international clients, in particular in the retail, aviation and financial services sectors.
He has particular experience in portfolio management as well as high value cases involving rent reviews, dilapidations, service charges, forfeiture, easements and covenants, options, possession actions, insolvent tenant work and lease renewals.
Simon Meek, head of the Shoosmiths real estate team in Leeds, said: "I am delighted to welcome Matt and Michael to the firm, Matt has a great profile locally and nationally as a property litigator and has bags of commercial awareness, experience and a great list of clients.
"He is already working on a matter for a major national retailer, so he's very much hit the ground running.
"I am sure every other major law firm in Leeds would have wanted to recruit him, so we are extremely pleased that he chose to come to Shoosmiths. Why? – Because looking after our clients and people is front and centre of everything we do.
"We are still a 'young' office – and there is an incredible energy and ambition here to create a best-in-class legal services firm for Yorkshire and the wider North."
Meek said the firm would be boosted further in the next month with the recruitment of an additional director.
He added: "Leeds continues to be an incredibly attractive place to work – it's unquestionably a hub for exceptional legal talent.
"More broadly confidence in the regional economy and the real estate market remains strong, with no signs so far of a Brexit-related slowdown."
:::
Two new recruits have joined the corporate and commercial IP teams at the Leeds office of Mills & Reeve.
Jack Bickler has been appointed as an associate in the corporate team.
Bickler, who joins from Leeds office of Ward Hadaway, will advise on the full spectrum of corporate transactions for public and private companies.
Bart Topps has joined as an associate in the commercial IP team.
Topps, who was previously at Walker Morris in Leeds, will advise on IP issues including IP law, patent litigation, copyright litigation, trade mark litigation and licensing.
Partner Paul Johnson said: "We are delighted to welcome Jack and Bart to the Leeds office. Our corporate and commercial teams continue to expand to meet new and existing client demand and I am confident both Jack and Bart will play a pivotal role in our continued growth."
:::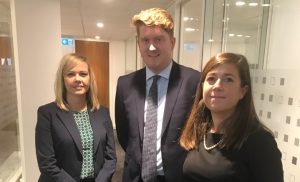 Langleys Solicitors has announced a trio of promotions within its York-based team.
Insurance lawyers Caroline Elson and Thomas Spring have been made senior associates while commercial property lawyer Amy Taylor has been promoted to associate.
Langleys has a turnover of £20.3m and employs more than 320 people at its offices in York and Lincoln.
At Langleys' Lincoln office, Helen Murphy and Helen Rundle from the firms' medical law team have been promoted from associate to senior associate solicitors. Also stepping up to senior associate are Amy Cowdell from the agriculture team and Debbie Harrison from the private client division.
David Thompson, managing partner at Langleys, said: "I'm delighted to recognise these rising stars of our firm. As a major employer in York, we pride ourselves on encouraging and developing talented individuals and giving them rewarding careers.
"By strengthening the experience and expertise within the business, we can deliver best in class service to our clients. We are a growing business and our sights are firmly set on breaking into the UK's top 100 law firms. Our people are critical to driving us forward on this journey."
Thomas Spring added: "I am very proud to have progressed again this year at Langleys. The firm has an exciting vision for its future and I'm pleased to be part of it.
"Having started my career at Langleys as a trainee six years ago, it is particularly pleasing to play my part in delivering on the firm's objectives, and I'm now helping to develop the next generation of talent here too."
:::
Susie Spencer, former senior manager of User Experience at ASDA, has joined Leeds-based behavioural research consultancy, SimpleUsability in a newly created role of director of UX Services.
During her 11 years at Walmart/ASDA, Spencer took Asda's UX capability from a headcount of one to a team of 15, including UX architects, UI designers, content designers and researchers and led the design of user experiences across ASDA's portfolio of websites, mobile apps and digital services.
Spencer said: "It was an easy choice to come and work at SimpleUsability who are at the forefront of delivering brilliant customer insights to businesses across all the major sectors. I've admired and respected them for a number of years."
Guy Redwood, founder and managing director of SimpleUsability, added: "Bringing Susie into the team is a real coup. We've been lucky enough to work with her for over eight years and have seen first-hand how brilliant she is.
"Susie's ability to drive a customer-focused approach to UX while dealing with complex and very senior stakeholder relationships will be invaluable. Our clients are incredibly excited to have access to the knowledge and experience that Susie's gained from working with Walmart, the world's largest retailer."
:::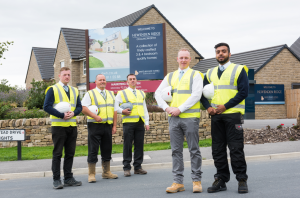 Barratt Homes Yorkshire West has appointed five new assistant site managers and a trainee assistant site manager to its team.
The new assistant site managers are spread across a number of developments.
Shahid Amini and Craig Bairstow are both based at Hewenden Ridge in Cullingworth, Leigh Coe is situated at Saxon Dean in Silsden, and Tom Coleman is located at Emmets Reach in Birkenshaw.
Robert Boocock has worked in the construction industry for 20 years and is now based at Weavers Chase in Golcar.
The housebuilder has also appointed a new trainee assistant site manager, Darren Bulmer, an ex-Armed Forces recruit who joined the team through its Armed Forces recruitment programme.
Darren Johnson, construction director at Barratt Developments Yorkshire West, said: "We are really excited to be welcoming new recruits into our award winning team, some new faces and some older that we have seen work with the company in the past.
"They each have fantastic skill-sets that will ensure top quality housebuilding will continue on our sites and we look forward to helping them continue to progress their careers."