Culture at the heart of fast growing multi-million-pound-turnover beauty business
The latest in our Northern Growth Accelerator series of interviews, in partnership with EY, profiling exciting, fast-growth businesses from across the North.
The success of Sweet Squared has been driven by a couple's passion for the nail and beauty industry; and as they embark on further scaling-up of the business, they remain focused on a culture that embraces "love and respect."
Leeds-based Sweet Squared is the distributor, marketer and educator of premium professional beauty products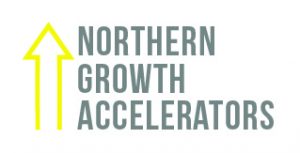 direct to the beauty industry. Founded by Samuel and Samantha Sweet, the business began trading from the couple's garage in 2006.
It went from a £12,000 loss when it first began operating to reporting a £2m turnover after year one. For the financial year to March 31 2017, Sweet Squared reported a turnover of £16m and pre-tax profits of £3.6m.
In the current financial year, the group is on target to achieve £17m turnover. Last month, Sweet Squared completed the acquisition of hairdressing business ICON Consultancy, based in Nelson, Lancashire, for a six-figure sum.
Sweet Squared is hoping to achieve a turnover of over £24m in the coming year; and that all seems within sight given that just two weeks ago it launched its very own waxing brand.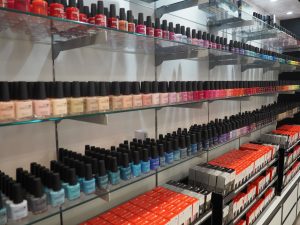 The firm was the first distributor of Creative Nail Design (CND) products to professionals in the UK. Samuel said: "We started Sweet Squared in 2006 in our garage. We had the idea that distribution could be done better and we had a real passion for the education piece as a whole. Within ten months of launching Sweet Squared, the opportunity came up to go after the CND (Creative Nail Design) contract and we were successful."
Samuel and Samantha at that stage brought Jim Nordstrom on board as a director, who had set up the well-known nail brand CND in 1979, which had been sold to Revlon in readiness for Nordstrom to retire. But he was very happy to come back into the marketplace working alongside Samuel and Samantha. Samuel had previously worked as a CND education ambassador, travelling across the globe educating professionals after starting his career in the nail industry aged 21.
Samuel said: "Jim has such a passion and enthusiasm for the industry. He is one of our best friends and was our mentor, helping us navigate our path. That really taught us the real value of having strong, clear mentorship. We wouldn't have experienced the success we have without him on board; it's about having trust and faith and it has been invaluable."
Samantha, who has an extensive professional background in the nail beauty industry, herself spent four years in America before returning home to Leeds. Samantha said: "My aim was to bring CND into the UK. It is a brand we have known and loved for many years and we knew it would work well in the UK market."
The couple met in Leeds and that is one of the reasons they wanted to base the firm here; Samuel was leading educational sessions for professionals in the city and Samantha attended the CND course. Samuel, originally from Utah, said: "I was doing a lot of travelling and Leeds was the very first place in the UK I came to run a masterclass."
Four months later, he moved to Leeds and the pair married in January 1999. Samantha's family were importing and distributing nail products for the professionals at that point and Samuel began to run seminars.
Samuel said: "We would always be talking about business. We lived and breathed it. We started to talk about how we could do things in the best way possible. That was the catalyst for Sweet Squared. Our culture is hugely important to us, everything we do is with love and respect."
Since then, they have kept ahead of trends and won contracts which have proved successful in the long-term. They
have always focused upon having strong connections with professional beauticians; and those buying Sweet Squared products have to show proof of their qualifications before purchasing in order to ensure the highest of standards.
They have been approached to supply consumers directly on numerous occasions but have never looked to change their business model in this way.
Samantha said: "Because of our background in the industry, we have always known the customers. We are great believers that we should do something for the right reasons and if you do that, everything else follows.
"We don't know how to serve the consumer directly and that is for others to do. We keep focused on our customers and being decent human beings."
The pair introduced a line of nail stickers called Minx in 2009, which celebrities including Beyoncé and Lady Gaga began wearing – sending order numbers "nuts" due to the popularity of the product. Samantha said the product also appealed to people who wanted short-term nail art which had maximum effect for a specific occasion.
During the London Olympics in 2012, Sweet Squared provided nail stickers of flags for every single competing country for the athletes; which did huge amounts for brand awareness.
This was followed in 2010 by the introduction of Shellac, a very well-known and now staple product in the nail industry and one that made having nails applied more affordable to the mass markets. Samantha said: "Shellac changed the nail industry completely. It saved salons overnight."
And as the UK distributor, Sweet Squared could deliver the product quickly to meet demand.
Sweet Squared moved to premises in West Park in 2007, and had a separate warehouse near Pudsey. At that time, the firm had ten employees and so sub-let half of the West Park building as they didn't need all of the space.
As they began growing, Samantha and Samuel started to look for space to house both the offices and the warehouse on one site. They wanted to remain in Leeds and bought a plot of land off Coal Road, moving into their new premises, with 10,000 sq ft of office and education space and 20,000 sq ft of warehouse "Squarehouse" space, in September 2017.
Their priority has been to ensure a swift and positive transition for their now 100-strong workforce. In this regard, for the first nine months at the new site, employees will receive fuel allowance.
Samuel said: "We haven't lost one person in the move. And what's more is that the warehouse team completed the move. We shut down on a Friday and moved here over the weekend. The team were incredible and we were fully operational on the Monday."
This is no small challenge, given that Sweet Squared promise a next day service to their customers. Last year, they completed 116,139 orders which consisted of distributing 1.5m items.
Samuel said: "Our customers are SMEs in their own right and many don't have stock control. So we deliver
consignments to meet their needs – which is often the next day."
This has been achieved by heavy investment in technological systems that allow the company to deliver a high volume of orders accurately, with tracking facilities through a courier.
Samuel added: "We have to remain competitive by investing in integration and web delivery. It gives us the flexibility and is dynamic; it is a platform that will future-proof our business going forward, including multi-currency capability. We are miles ahead of our competitors in this way."
The duo have always been driven by serving the customer with "love and respect" and even to this day, Samantha replies to social media enquiries because the business has been built up through relationships and a culture where all voices are heard. Samantha said: "We are not the kind of people to sit in an ivory tower. We are here to listen to our customers."
"Ensuing that we maintain our brand and our identity is incredibly important to us. Our brand is our culture and our connectivity. We can and want to stay engaged with the customer base," added Samuel.
For the last three years, the firm has been investing in and developing its own waxing product, which was launched just two weeks ago. Samuel said: "That's going to be a gamechanger because there is huge opportunity there. We will start exporting that soon and we already have five countries lined up. My guess is that we will be able to enter 15 different countries with it."
"This is exciting because we aren't just wholesale anymore. We are starting to grow and export with our own brands. We also have visions of Sweet Squared in the US."
Samuel added: "But we are not after growth for growth's sake. But there is so much opportunity in this sector and for us that's really exciting."
Each growth and investment is completed in-house too, because the pair are intent on putting their own money into the business. This includes purchasing the site where their warehouse is located without external financing.
Samuel said: "Because we wholeheartedly believe in it, we out our own money in. We are not debt driven. Sometimes it is important to know what you don't want in a business and debt can be a good tool.
"We are growing at a fast enough pace and so would rather take care of it ourselves."
The business has survived the tough times because the nail industry is "recession proof," said Samantha. The pair explained that at a low price point, people can have their nails done as a low-cost way of maintaining appearance and feeling good. "It's instant gratification," she added.
Samuel said: "But also, during a recession, people like to learn new skills to provide income. A lot of people go into beauty for this reason and therefore there is a lot of buoyancy in the market."
A large part of their business is educational; delivering workshops for professionals to learn new skills. Samuel said: "The educational side of the business is a loss leader for us. But over the last 12 months we have trained 4,000 people."
Sweet Squared has a team of 50 education ambassadors, who work on a contracted basis to deliver sessions across the UK and Ireland. Their new Leeds premises – which have been designed from the outset by Samuel and Samantha – has suites for training, including a nail salon.
So what else does the future hold for this growing firm?
Samuel said: "This is not just a legacy building business. We want to leave our mark on the industry in a permanent way. We are idealists, we wanted to do something great; not to just make money."
"Such a lot of people bring value to this business and as long as we are still coming in and enjoying what we are doing, we are very happy," added Samantha.
"Our customers like the fact we are based in Yorkshire and everyone here is down to earth. We have a real affiliation with Yorkshire. It's strange because when I was 18 I couldn't wait to get away, but it's changed so much and it's great to be back."
Mark Allcroft, EY partner and head of transaction support for Yorkshire and the North East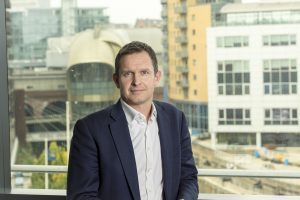 Love and respect, The Human League, The Full Monty… very rarely does a meeting I go to include such a variety of subject matters. Well it does when you meet Samuel and Samantha Sweet of Sweet Squared.
Sitting proudly in their new purpose built facility in Leeds, the founders of Sweet Squared are incredibly passionate about the business they founded in their garage 12 years ago, and rightly so.
Sweet Squared supplies branded beauty products to professionals and, with the training it runs through its education centres, it is able to cement the relationship with the salon owners and beauticians who are its customers, building both trust and brand equity.
This acute focus on meeting customer needs with the brand purpose to "honour and serve the pro – with love & respect!" is a clear driver of success and it underpins the stellar growth the business has experienced.
Advances in technology, social media and the choice available mean the relationship with and loyalty of the customer is absolutely crucial to success and the Sweet team are all over it.
Self-funded from day one, the Sweet team have a respect for virtues of strong financial control, discipline and they understand the value and importance of having a business mentor.
They are clear on their global aspirations and desire to diversify their current range of products; in fact when we met the launch of their new 'Wax One' range was imminent and more will follow.
Sweet Squared is a great Yorkshire success story and one I'm sure many others will aspire to follow.