People: Xercise4Less appoints new CFO; Conveyancing company makes raft of hires; and more
National gym operator Xercise4Less has announced Helen Gauden as its new chief financial officer, replacing the outgoing Chris Storr.
Gauden joins Xercise4Less after seven years at British high-street chain, Wilko, most recently as head of finance.
Gauden joins Xercise4Less in a period of expansion as the gym chain announced a £42m growth capital investment from the Swedish credit provider Proventus Capital Partners in May.
Since opening in 2009,  Xercise4Less has become one of the largest value brand fitness clubs in the UK, in terms of membership and facility size.
Jon Wright, founder, said: "Firstly, I'd like to thank Chris for his dedicated service to Xercise4Less. He was instrumental in securing the growth investment that is allowing the business to press forward with its aggressive expansions plans.
"A very warm welcome to Helen, who impressed me with her infectious enthusiasm and drive. I'm fully confident Helen's skillset will only serve to strengthen and grow the business in the next stage of development."
Gauden added: "With health and wellbeing very much a part of people's mindset now, I'm delighted to be joining a Xercise4Less at such an exciting stage in their journey.
"The vision of making fitness accessible to all and helping people to do more than they believed possible is something I feel passionately about. I look forward to being part of the team to take Xercise4Less to the next level."  
Xercise4Less, which currently operates 52 clubs nationwide, is set to open up to 10 gyms by the end of 2018 and a further 40 over the following two years, meaning that there will be 100 gyms across the entire estate by the end of 2020.
:::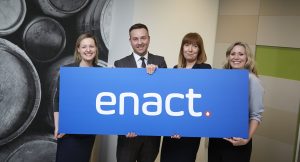 Enact Conveyancing, the Leeds-based direct conveyancing company, has appointed its fiftieth employee to its Hull team.  
The company hopes to recruit 100 additional people over the coming year to work at its Hull office. Roles to be filled include legal assistant, team leader, conveyancer and customer service advisor.
Emily Settle is the latest recruit to join the team, and Hannah Andrews used to work at Enact's Leeds office, but has since joined the Hull team.
Established in 2000, Enact Conveyancing handles one in four remortgage conveyancing transactions and also helps thousands of people to move home each year.
To accommodate its growth, the company expanded its operations from West to East Yorkshire in March, choosing Hull as the location for its second office.
Ben Carroll, managing director at Enact, said: "We wanted to help bring business, investment and new opportunities to Hull, as well as tap into the talent here to establish our new team.
"Our team is what has always set us apart from our competitors and we've been impressed by the local talent in Hull. The team is enthusiastic and dynamic and we are providing the support and training they need to grow.
"We're renowned within the industry for having one of the most comprehensive and complete conveyancing training programmes, which helps each member of our team become an expert in their field."
The company employs more than 530 people at its head office in Leeds. The new Hull team is based in a 10,000 sq ft office at Anchor House in Silvester Street.