Appointments: RICS, Midland Expressway and the City of Birmingham Symphony Orchestra
Midland Expressway, operators of the M6toll, has appointed Andy Cliffe as its new permanent chief executive officer.
Cliffe will leave his role as managing director of East Midlands and Bournemouth Airports, part of the Manchester Airports Group (MAG). He has also held a number of roles during his 19 years at MAG, including group marketing director, group strategy director and managing director of assets, across finance, operations, commercial, real estate development, strategy and corporate development functions.
Acting chief executive, Graham Parcell, said, "Andy is a great addition to the team. He has been at the forefront of developing East Midlands Airport's business, which in turn has helped the local business community there. He joins the M6toll at an exciting time with the numbers of customers growing strongly and I am sure he can take that momentum on."
Chartered building surveyor Nigel Mason, partner for Rider Levett Bucknall in the West Midlands has been appointed chair of the RICS (Royal Institution of Chartered Surveyors) West Midlands Regional Board.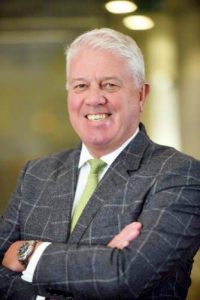 Mason has worked across a number of sectors including defence, retail, commercial, housing, education and health. He will head the regional board, which is made up of eleven chartered surveyors from both the public and private sector, and will help the institute to improve industry standards, influence government policy and encourage more young and diverse talent into the industry.
The board will also be responsible for encouraging firms in the region's land, property and construction sectors to support the Pledge150 campaign, where RICS is partnering with LandAid to raise funds to provide 150 bed spaces across all the UK by the end of  2018 for young people at risk of homelessness. This year also sees the institute's headquarters relocating to Colmore Square in Birmingham.
Mason said: "With the relocation of RICS' operational headquarters to 55 Colmore Square, the announcement of the Commonwealth Games for Birmingham to the changing political landscape in regional devolution with the Metro Mayor, there is a great sense of opportunity and excitement for our future RICS members.
The City of Birmingham Symphony Orchestra has appointed David Burbidge as its chair. Burbidge, who led Coventry's bid to win the UK City of Culture 2021, will continue his role as chairman of the Coventry City of Culture Trust. 
Burbidge has previously served as chairman of the Belgrade Theatre and Coventry Cathedral Development Trust and on the development boards of Garsington Opera and Compton Verney. He was previously managing director of furniture manufacturer Burbidge & Son, chairman of Burbidge Capital Ltd and a director of Coventry Building Society.
Bridget Blow, who is stepping down as the Orchestra's chair after coming to the end of her six-year term, said: "David is a nationally-admired advocate for the arts and will bring to the CBSO strong governance experience and a formidable fundraising track record.  I have enjoyed my time as c
hair immensely and am pleased to be leaving the orchestra in such capable hands".